New Holland TC 45 (4 Wheel Drive) 1.7m wide 2.2 tonnes including loader & bucket.
New Holland TC 35 S (4 Wheel Drive) 1.5m wide 1.7 tonnes including loader & bucket.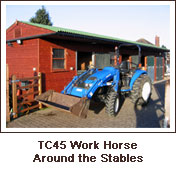 Modern compact tractors can offer a cost effective and less disruptive alternative to Digger hire or larger horsepower agricultural tractors. A compact tractor is lightweight by comparison, highly manoeuvrable and has a higher power to weight ratio. They have the same pto drive and linkages for a full range of implements such as fertiliser spreader, rotavator, flail mower, but can gain access through narrow gateways and work in small paddocks with minimal damage to or rutting of existing grass.
Our tractors are 1.5 and 1.7 metres wide weighing a fraction of most agricultural tractors or diggers. (A JCB 3CX digger found on most building sites weighs over 8 tonnes and a JCB Fastrac 8250 tractor weighs 10.6 tonnes).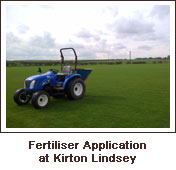 Both our compact tractors are four wheel drive, and mounted on wide section turf tyres for low ground pressure. Each tractor is fitted with a front mounted hydraulic loader and bucket suited to all manner of digging, levelling and loading jobs. The loaders are detachable to further reduce the weight of the machine when using a pto driven implement.
The TC45 has a 4 in 1 bucket for grabbing, pulling and self loading, making it ideal for manure, muck and soil shifting, levelling hardcore, stone and other aggregates. The TC35 has a supersteer axle making it highly manouvreable in tight spaces , it also prevents the tyres from scrubbing the ground and damaging grass.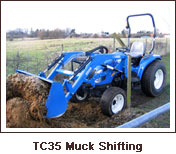 We've been operating compact tractors for more than 15 years and have a full range of implements available. The tractors are available to hire on an hourly , weekly or daily basis.
There is a minimum hire period depending on the location of the work site and the tractors are only available WITH an experienced operator. The tractors are fully insured and with the benefit of an experienced operator you are assured efficient work rates and quality results during the hire period.
For further details or to discuss a quote please e-mail or phone us.