New Holland Compact Tractor & Loader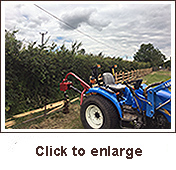 TC35 New Holland compact tractor, 4 wheel drive on wide turf tyres for reduced ground pressure, fitted with front loader. Available with 1.5m bucket or muck forks. We have a range of PTO driven attachments including 1.5m Flail mower, 1.5m Rotovator, Fertiliser spreader etc for paddock maintenance and land work.
The tractor is lightweight, very manoeuvrable and ideal for smaller paddocks, large gardens or areas with narrow / restricted access. Please contact us for further details of what we can do.
Kubota KX91-3 Mini digger & Benford Terex 3T Dumper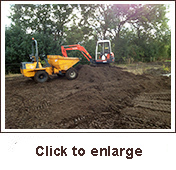 Kubota 3.5 Ton mini digger with extra reach boom & dozer blade with a 14ft reach ideal for cleaning out and shaping ditches. A full range of digging and trenching buckets is available for ground work, excavating soil, moving aggregates, removing tree stumps, dozer blade for levelling etc. Ideal for creating driveways / hardstanding areas, shaping and moving soil.
Our 3 ton Capacity 4 wheel drive dumper is the ideal partner to our mini digger enabling the easy movement of soil, aggregates etc during the course of our work.
Please contact us for further details if you have a job or project in mind. ALL our machines are only available with an experienced operator to ensure you get the most efficient work rate and a quality result with the benefit of our extensive experience.